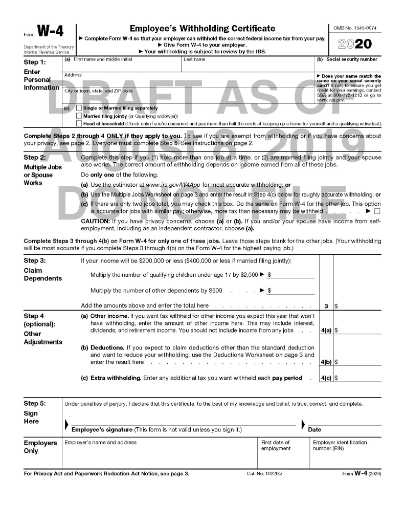 Beginning in 2020, all employers must use the new W4 Form. Old employees are not required to use the new form, unless they wish to change their withholdings. The new form is supposed to reduce the complexity of filling it out. But I don't think dual earner families will agree.
When completing Step 2 for multiple jobs or a working spouse, you have 3 options. Option 1 requires internet access but gives you the most privacy. If you choose Option 2, you will have to complete a worksheet to maintain your privacy. Option 3 is the easiest option, but it is less accurate and reveals to your employer that you multiple jobs in your household.
Step 3 replaces the exemptions you claimed on the current W4 and is straight forward, other than you are telling your employer that your income will be below the listed threshholds.
The same can be said about Step 4 which is Optional. If you enter the information, you are sacrificing privacy for accuracy.
I anticipate that there is going to be blacklash by some employees because of the information asked on the new "less complicated" form.